Duties of Operations Managers vary depending on the size and nature of the firm. Usually an Operations Manager wears many hats.
---
Duties of Operations Managers
In general we can say Operations Managers perform many of  these duties:

Goods and services design
Process design
Forecasting
Scheduling
Capacity Management
Inventory Management
Materials Requirements Planning (MRP)
Quality Management
Location strategy
Facility layout and design
Procurement
Technology Management
Human Resources and Job design
Maintenance
Sustainability practices
Operations Managers acquire skills to perform these duties either by work experience in various roles in these areas or education in Operations Management/ Supply Chain Management or a combination of both education and experience.
Operations Managers implement operations management strategy, provide competitive advantage and increase productivity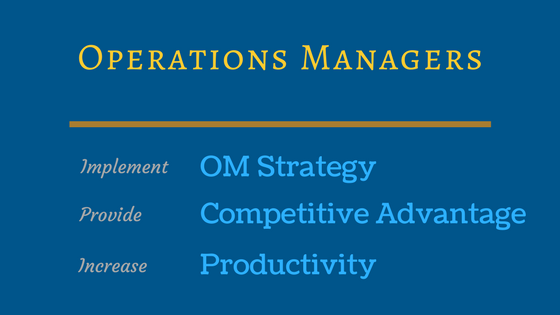 What is Operations Management?
---
Like our Facebook Page